Why we created a new Home Society website and webshop
Welcome to our new website. For some time now Home Society had a webshop that -we have to admit- was not really up to date anymore and was not the most userfriendly. That's why we decided to work on a new webshop that makes it easier for our customers to get inspired by our products and new collections and of course shop and order their favourites. Our priority was user-friendliness and more inspirational content. The result is a website that stands out and offers many new features.
This is what you can expect when you explore the Home Society online world:
Shop the look! Easily add items to your shopping basket that you see in our lifestyle photos in the "Lookbook" category.

Search for items in your own language! No more "English only" article names.

Easily filter items by season, material, colour, category or more!

Overview and follow-up of your orders, delivery times and selected items.

Get inspired! Our new website will feature lots of lifestyle photos, as well as interesting news and blog posts.

View updates on the latest offers and promotions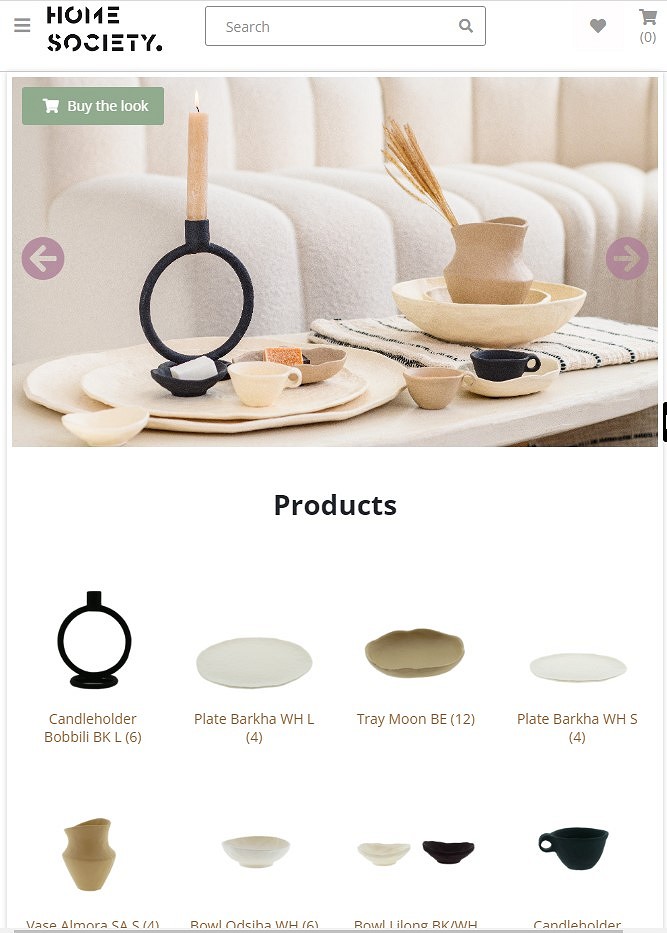 Shop the Look – All your favourites added to your basket in one click!
One thing we are especially proud to present: Shop the Look. This tool allows you to shop all the products you see in a lifestyle photo with just one click. Browse through our digital lookbook and immediately add the things you like from a photo to your shopping basket. All the photos you see in our printed magazine, you can also find in our digital lookbooks.
Are you having problems to login?
In the beginning of February we have sent new login data to all our customers in a mail ("New Home Society website & login"). Your login is your customer number and a password that you created yourself by clicking on a link in that email. If you have problems logging in, please write us an email at info@homesociety.nl
More inspiring content and news for you!
Keep an eye on the tab "Inspiration" in the menu bar. We always update the page "News" with the newest blogpost on inspiring topics. Of course you will also hear all about new offers and promotions there.
If you want to learn more about our company, are interested in behind the scenes insights or have questions about your order, the website or us, you can have a look into the bottom of the website. In the footer you find many pages with a lot of interesting things to know.
For now, enjoy the new Home Society website! Do you have feedback? Let us know! hello@homesociety.nl